<! --- table 1 starts here --->

---
We are raising a generation of
deluded narcissists
A resulting epidemic of depression, suicidality &
homicidality may already be happening.
by Dr. Keith Ablow (Jan 8, 2013 - FoxNews.com)
| | |
| --- | --- |
| | A new analysis of the American Freshman Survey, which has accumulated data for the past 47 years from 9 million young adults, reveals that college students are more likely than ever to call |
themselves gifted and driven to succeed, even though their test scores and time spent studying are decreasing.
Psychologist Jean Twenge, the lead author of the analysis, is also the author of a study showing that the tendency toward narcissism in students is up 30 percent in the last thirty-odd years.
These data are not unexpected. I have been writing a great deal over the last few years about the toxic psychological impact of media and technology on children, adolescents and young adults, particularly as it regards turning them into faux celebrities--the equivalent of lead actors in their own fictionalized life stories. ...cont'd...
---
| | |
| --- | --- |
| | |
With the recent discussion of gun violence has come an almost panic-stricken interest in mental health. More and more of us are coming to the stark realization that trying to eliminate or even control guns is probably not the solution. We have to control the shooters. The problem is, most people never get past the first question that comes to mind: "How do we identify the mentally ill before they go berserk, and how do we stop them?" That is the wrong question. It is little more than a lazy and convenient way to mask the real root of the issue.
The real question needs to be, "What brought on their mental problems in the first place, and did we step up and do all we could to head them off--decades before, when they were still in diapers and playing with Legos? Did we ourselves, in fact, cause those mental issues by giving into the temptation to turn our parenting over to the unscrupulous moguls of pop-culture, giving them free reign to sieze control our children's daily lives and their destinies?"
No one wants to go there, of course. That would not only serve to indict our parenting skills but our whole culture. But maybe they need to be indicted. Whether we want to admit or not, there are clear signs that we are sitting back and allowing our civilization to decay, bit by bit, day by day. And, if we don't re-examine the way we are running our lives and our children's upbringing, we may find ourselves, sooner than we can imagine, in the throes of another Dark Ages.
A few lucky terrorists notwithstanding, the majority of these shooters are young people with warped psychological and sociological profiles. It seems clear that they weren't born that way. They are the products of their upbringing and their surroundings. And it is we--not only as parents but as neighbors, relatives, and teachers--who are directly responsible for deciding which cultural influences go into shaping our kids' lives. We have the power-- and indeed the obligation--to police what our children see and do.
But, alarmingly, we are allowing our children--and, in many instances, enabling and encouraging them by our own example--to be narcissistic, rude, gluttonous, idol-worshipping brats (the idol being, guess what? Big Technology! Admit it, BigTech is today's God!).
What's that, you say? "Not me!"? Well, then, let us do a reality check.
Do you allow your boys to play games or watch shows are are all about violent competition? Where victory means personal power, and victory comes from killing?
Do you allow, or perhaps even encourage, your daughters and their friends to be incessantly in pursuit of the "Hot!" factor", putting themselves all over YouTube and Facebook, pretending to be little superstars, proudly obsessed with amassing a growing portfolio of "likes" and "friends"?
Do you allow your children to see you ridiculing or scoffing at the institutions conservatives hold dear to heart, like moderation, religion, sexual abstinence and natural gender roles?
Do you turn the other way when your kids, or kids you know, use street language, act out pop-culture fantasies, or entertain themselves in ways that older folks would consider disrepectful and contrary to conventional standards and family values?
Do you even promote family values in your home at all? Or do you convey the message to your kids that those things are old-school nonsense and not nearly as important as being at the top of the Awesome Scale?
Bucking the tide of popular trends is not easy. It means having the guts to be independent and the willingness to do without the fun and exciting things "everyone else" is doing. But sometimes, especially when young lives are at stake, sacrifice is the heroic thing to do. But how do you go about it? There is really only one way: by becoming a devoted member of a close-knit and relatively insular community where certain things are expected and certain other things are not tolerated. And where whatever the mainstreamers are doing is irrelevant.
The Naoi Meadow Way is intended to be such a community. I hope you will give it some thought
RW
WOULD NM BE FOR YOU? I try to urge strict adherence to 3 principles which I believe our living superhero Jesus would teach:
1. Every minute of our daily home and family lives should be swathed in serenity, peace, beauty, love of others, and a reverence for nature & all life.
2. The frenetic pace of urban living and the gluttonous self-centered values promoted by today's electronic secular culture are evil...and, to be good parents, we must steer our families away from them.
3. No one has any idea what God or Jesus are like. But devoting time to imagining them is time spent away from the destructive influences of mainstream society. So daily reverence is important.
Reaching the Meadow is not going to be an easy trek. Living according to these three stringent standards in order to instill them in our children requires strength and the loving bonds of sisterhood and brotherhood. The belief that we, walking hand-in-hand as a group, can get there.... if we really, really want to ....is what makes the Naoi Meadow Way so different from other lifestyles and religious communities.
---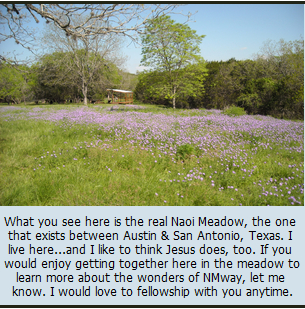 DID YOU KNOW? Mormons are among the most committed religious groups in America. According to a recent poll, more than eight in 10 say they pray daily; three-quarters attend weekly religious services; and 82 percent say religion is very important in their lives. Only Jehovah's Witnesses approach Mormons' religiosity.
---
NM-Lucanism is Jesus-inspired Christianity--and that's way different from the mainstream.
What makes NM unique is our belief that...
What do you think?
Click one to discuss it.
Hey! I have an idea.
Hi, folks. That's me over there to your left, tweeting away about politics, religion, and what have you (or I'm there if your browser settings allow you to see me).
No, I am a not a pundit, or a preacher, a guru, or anything like that; just an amateur historian, a retired journalist, and a part-time cogitator with plenty of ideas.
Please allow me to explain how this project, and this website, came to be.
Over the years, whenever something came up that I didn't care to get involved with, I would laugh it off, tongue-in-cheek, with, "No thanks, it's against my religion." It was a handy escape route. But then, as often as not, someone would come back at me with, "Really? What religion would that be?"
Well, a couple of years ago, I got to thinking: Maybe there actually IS a religion in there somewhere? After all, I reasoned, declining to do things that are against your personal code of ethics, when lumped together with the totality of everything you believe to be true, winds up being, by definition...guess what? Your religion. It's a personal religion, true; but a religion just the same.
The more I thought about it, the more I realized that, if you take your personal religion and organize it, it becomes an "organized religion". And if you then choose to share it with a curious friend or two, it becomes, well... at least as valid as the well-known religions billions of people practice every day, everywhere, all over the world.
Think about it. Every major religion started off just that way: Some resourceful, pondering person had a crazy idea (or an epiphany if you prefer) and decided to put it into words and share it.
So it was that my personal religion which I had enjoyed for years suddenly acquired a name, became reasonably organized and is now hot off the presses and ready to be shared with anyone who is interested. And that is what I am up to here.
If you love the idea of Jesus and you enjoy the traditions, the holidays, and all the sparkling symbolism of Christianity, but are a little jaded with the way it is practiced by the mainstream churches, may I invite you to hang around. I have a novel approach that you might find rather nice.
Click a few of the links on this page to embark on the adventure. And may I extend my best wishes for a bright year ahead. RW
---
Catholic leaders tell Gingrich, Santorum to
'stop perpetuating ugly racial stereotypes'
Catholic leaders issued a letter Friday to GOP presidential candidates Newt Gingrich and Rick Santorum, themselves Catholics, urging them "to stop perpetuating ugly racial stereotypes on the campaign trail."
The letter, signed by 45 Catholic leaders says:
"Mr. Gingrich has frequently attacked President Obama as a "food stamp president" and claimed that African Americans are content to collect welfare benefits rather than pursue employment. Campaigning in Iowa, Mr. Santorum remarked: "I don't want to make black people's lives better by giving them somebody else's money."
---read entire article---
---
Survey: Republicans' views vary
Mormons and white evangelicals share an intense commitment to family life, prayer, the Bible and conservative politics, including support for the Republican Party and smaller government, according to a new study released Thursday.
But the two groups strongly hold divergent religious beliefs, and half of Mormons surveyed felt hostility from evangelical Christians.
---read entire article---
UPDATE: Since the above article was written, Jon Huntsman and Rick Perry have dropped out of the race.
DID YOU KNOW? The Naoi Meadow Way (NM) gets its name from the Gaelic word naoi which is pronounced like nee and actually has a dual meaning: the number nine as well as the OT character Noah -- each of which plays a key role in NM teaching. Noah, of course, was the ultimate steward of nature's critters. That concept of Stewardship appears throughout both testaments and is all about mankind's responsibility to manage the resources of life, which belong to God, and to use them for His glory. Thus, as part of the NM ethic, NMembers take seriously their role as stewards of what is called the Trine of Nature -- beauty, peace and life -- in every imaginable sense of those words.
Things here are still in beta-testing.
If you experience difficulties opening the images and applets on this page,
CLICK HERE to skip this page.
And please let me know so I can fix it. RW
---
Secular-humanist chaos? Or a more Jesus-inspired way?
It seems that almost everyone I talk to these days -- irrespective of locale, age, or economic status -- is in agreement on one thing if nothing else: that our culture is careening out of control and needs to be fixed. No one seems truly at peace with themselves or with the world around them. Or with much of anything else for that matter. I have never seen such widespread discontent. The curious thing, however, is that none of us can come close to agreeing on what the basic problem is, or what should be done about it. There is a slew of finger-pointing, of course; and about the only common thread is that no one thinks of himself as to blame; it is always "their" fault. I do have my own theory, and it is this: Genuine virtues and old-fashioned values that once provided a universally accepted template for living have been all but cast into obsolescence, largely by secularists, as too silly and cumbersome, and have been replaced with a more "modern" set of values that can only be characterized as things that Jesus would not do. I even have a catch-phrase for them; I call them indees (as in WWJND). I am convinced that what is amiss with our society, and the reason folks are so restless, boils down to a severe shortage of basic goodness. We need to pause in our mad clamour for the American Dream and strive instead for the Right Life. And to me the Right Life is a Jesus-inspired life. I have a name for that quest, as well. I call it the
Naoi Meadow Way.